February 11th, 2008 by neil
Tweet
Many of you followed along as I reviewed the Photoreading Deluxe course, detailing my journey towards a more efficient, ultra-speedy style of reading. Lately I've been working on another course called Singing Success, which is a singing course (12 CDs, a booklet, and a DVD) taught by Brett Manning, whose clients have won Grammys, Doves, and other marks of distinction in the music industry. The whole idea behind Singing Success is that anyone can learn to sing better and improve their range using the "secret techniques" of the industry. If you are at ALL interested in becoming a better singer (I am), and you hear the before and after samples on the singing success website (I did), you will certainly be inspired to take the plunge to see how Brett Manning can help you take your singing to a new level. In this (and an ongoing series) of articles, I am going to review the Singing Success program, so you can get a sense of the quality of instruction (and the results obtained).
What is Singing Success? How does it work?
The basic premise behind Singing Success is that singing is a natural extension of speaking. Before starting out on his own, Brett Manning was a student of Seth Riggs (who developed the technique known as "Speech Level Singing" (SLS)) – and he became a top-level SLS instructor. Take a look at the Speech Level Singing Client List, and you'll get a sense of how widely-used this technique is in the music industry. And if you're anything like me, you'll start to get excited.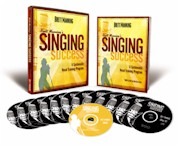 Anywho, Brett Manning struck out on his own, modifying some of the SLS exercises and developing his own "Singing Success" method. Now, not having ever done any work with Speech Level Singing, I can't tell you how his techniques differ from those of Seth Riggs. There are no SLS instructors in my area, and, for that matter, I'm not looking for lessons. I'm looking for something that I can do in the privacy of my own home (well, my wife might dispute the 'privacy' claim), something that is designed to take me (and thousands of other people) methodically from point A to point Z. Or at least point Q. Hell, I'd settle for point L.
So Singing Success is a series of vocal exercises that, over time, enable you to maintain a relaxed larynx (voice box) while singing – which is the secret of being able to sing over a wider range, with more power – with LESS effort. The techniques clearly expose you to the different registers of your voice, starting with the low "vocal fry" register (imagine how Elmer Fudd speaks – that's vocal fry, where you can just about hear each vibration of the vocal chords), chest voice, head voice, and working all the way up to (potentially) the "whistle" register (made popular by Mariah Carey and other R&B artists). Then it eliminates the breaks between registers, smoothing the transition so that you can sing from your lowest register to your highest register in a smooth, consistent tone.
My Singing Success Progress So Far
I have worked through, at this point, the first 4 CDs of the course. The first two CDs were mostly informational, while the third CD and fourth CD are all about the techniques. Several more of the CDs are devoted to singing technique (improving range, tone, and power while staying relaxed), while the remaining discs are devoted to applying the techniques in order to sing in different styles.
I spent about two weeks on the first technique CD (disc 3), and have been working on the second technique CD (disc 4) for about a week. I am already noticing a HUGE improvement in my range and the quality of my tone, which makes me even MORE excited – because I'm essentially just beginning the course. I've always considered myself to be a bass (or maybe a baritone on my better days) – which, for those of you who need musical terminology translated, means that I sing LOW. And singing higher for me, while occasionally possible, has always been a stretch.
My formal vocal instruction in college did a little to improve the quality of my voice, but I never noticed such a marked improvement as I have in the past three weeks of working with the course. Although I haven't exactly been able to apply these techniques to my own songs yet, I have been able to sing all the way up to the HIGHEST register of the male range during the exercises. Think of that dude in a Barbershop quartet who sings impossibly high – that's me.
So the Singing Success exercises are designed to change the way you sing (over time). While I'm definitely not at the "lasting transformation" stage of the course, I have sampled enough to see that this course probably will have a huge impact on my ability to sing well. I already feel like I should go back and re-record a lot of my demos – so by the time I'm done we'll have a little "before and after" comparison of our own. Meanwhile I will keep you posted as I work my way through the course to let you know how it's going.
Pros: Very thorough, methodical instruction. Brett Manning is also very personable – sometimes his humor is a bit corny, but I appreciate the "personal" touch. You can tell that he's made an attempt to make the course entertaining as well as instructive. While the Speech Level Singing techniques might be "secrets", Brett takes the mystery out of how to sing better, as he explains precisely what each technique is meant to do. You'll EXPERIENCE the difference between chest and head voice, and the effect that the varying positions of your larynx has on your overall vocal quality. You can take your time working through the course – and it seems like the exercises are well designed in that they do "push" you, but not to an intimidating degree. I also appreciate that he has examples of men and women singing each exercise before we do the exercise, so you can hear exactly what it's supposed to sound like when YOU do the exercise.
Cons: The major "con" at this point is that when you do the exercises there's no one in the room with you. There is certainly something to be said for having personal feedback as you sing in a lesson, and it's up to you to be the judge of "how high you can sing comfortably" – since the music track over which you sing the exercises blends the ranges of men and women. It took a little getting used to, knowing when to sing, when to drop out (as the range got too high), and when to come back in again (as the range came back down to my level). That being said, I suppose that it's GOOD to develop a sense of checking in with yourself and your own voice, learning how to recognize your limits, and creating self-confidence as a singer (i.e. "I know myself, I know my limits, and I've been able to see myself grow over time as I practice patience and simple follow-through with a relaxed, methodical approach to singing").
Who it's good for: It's my impression that Singing Success could benefit anyone who either a) wants to sing better or b) wants to develop vocal versatility (i.e. the ability to sing comfortably in different styles). It's great if your a total beginner, but it will easily complement the vocal instruction that you've already had.
How much does it cost? Any other details I should know about?
Singing Success costs $199 from the Singing Success website. There's a 100% "coffee-stain resistant" guarantee – meaning that Brett Manning gives you 6 months to try the program out, and if you're not completely satisfied you'll get 100% of your money back – even if you've spilled coffee on it. I guess that's his way of saying "no questions asked". When you compare the cost of private vocal instruction (not exactly apples-to-apples, I know) – it's WAY less expensive to work with Singing Success. Plus, how many voice teachers will refund your money if you're not entirely satisfied after 12 lessons? Probably none.
Whether singing better is important to you or simply something random that you'd like to do to broaden your horizon, I encourage you to check out the Singing Success website, listen to the before/after audio samples, and sign up for the free stuff (there's a video – plus access to their user forums, which have been helpful for me as I've been getting started with the course). And stay tuned as I chronicle my progression through the course.
Now, it's going to take me several months to work through the whole thing – so don't feel like you have to wait for me to finish before you get started. And if you have any questions about the course, I'd be happy to answer them as best I can. Since I haven't finished the course yet I have to stop short of an unqualified endorsement of Brett Manning's Singing Success, but I can say that at this point it feels very promising. Time (and tunes) will tell!
Note in the interest of full disclosure: I'm so impressed with the Singing Success program so far that I signed up for their affiliate program – so if you visit the singing success website by clicking on the links above and end up making a purchase, a portion of that purchase will be donated to NeilSattin.com. That being said, I intend to be as "objective" as I can be in my review. Of course, if Singing Success sucked, I probably wouldn't be taking the time to write this review in the first place!
Tweet
Related Articles